It's been a busy few months amid an unusual heatwave. Long sunny days are a great excuse to get out and about and enjoy the delights of your local area. I often think people's tendency to explore gets saved for when they're away on holiday, but what about the treasures on our own doorsteps?  For me that's Devon, and while we haven't actually 'been away', we have made a point of having holiday days.
This is Kate and I, blowing away the cobwebs on the Exmouth ferry. We were in for a treat with not one but two sightings of seals soaking up the sun. Then on for a trek around Becky Falls on Dartmoor, and discovering the legend of the money tree.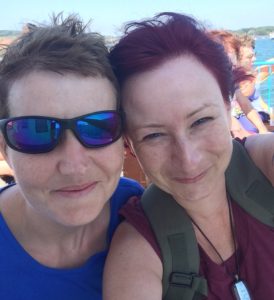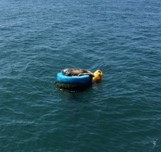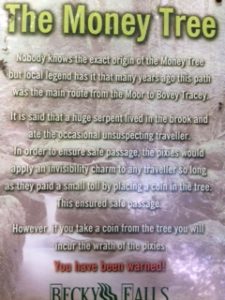 The busier life gets, it takes more effort to find balance. For me, without balance, life starts to make less sense. So I try to appreciate my surrounds, find time to see friends and family, socialise, and, whether I feel like it or not, get some exercise. Mostly it's a daily walk, the odd bike ride, and a Saturday morning burst of circuits with the class of Free Moovement in the park.
As always, I'm busy with writing. With Return of the Mantra now published, I'm cracking on with a sequel. The story is complete and there have been many drafts; hopefully this will be the last draft before submission. Then there will be that long pause, before almost certainly another draft will begin. Balance comes into my writing too. For many years it's been a solitary existence and still is, but this year I joined up with Exeter Author's Association. Monthly meetings with fellow authors is proving an invaluable support network, and with autumn on the horizon we have plenty of events planned.
Writing a novel is a long process spanning years, for me at least. To balance that I also paint; from start to finish the process is quicker, and it's a great way to add colour to home. Enjoying the summer of the UK, I thought back to the holidays last year, and our trip to New York. While there we visited the African Burial Ground National Monument and Visitor Centre. Quite simply, it was moving and inspiring and well worth a visit. Inspiration stayed with me, and so I took paint to canvas and created the small collection, 'Teardrops'.
The heatwave seems to have broken, if only for a momentary pause.  So the wok is on the stove, with the start of a curry bubbling away, filling the house with warming aromas. And now it's back to fantasy writing, as the characters struggle to unravel the identity of the ancient curse.
Happy Sunday!!