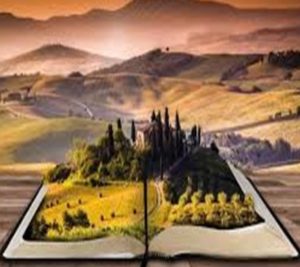 It's the Monday after Exeter's first literary festival, and I'm left with the question, 'Do we stop to think how much we take for granted?'
I'm thinking about the main character in Return of the Mantra; a young woman who grows up in a society where freedom of speech, books, stories and historical truth are controlled.In her youth, Suni's most treasured times are evenings spent listening to her mother's stories of life before the drought, stories that leave Suni wondering what is fact and what is fiction? They are stories that excite her imagination, stories that give her hope that the world she lives in can one day be restored; they are stories that are banned. So this small family unit live a secretive life, preserving their traditions, their beliefs, their stories, their history, their hope for a brighter future.
It's a world not too unlike our own, with poverty, among others, affecting our freedoms, and our access to information. In the UK it's one of the reasons I'm grateful for the existence of libraries, enabling stories to be shared. I never thought I'd see the day when libraries would be under threat. St Thomas library is my local pit-stop, and is instrumental in its innovative ways of getting stories out into the local community.
So it was wonderful to have our very own celebration of literature in all its forms, in a packed programme spanning three days. There was a fascinating talk about the universal influence of literature and art, delivered by speakers from some of our diverse communities. We were gifted with a discussion of Germany's original folklore; a Polish romance; insight into life in China in the 1950s; a discussion of family dynamics in Korean society; and readings of poetry written by Chinese migrant workers. All told in the spirit of sharing stories. At the end I hurriedly scribbled down the title, 'Iron Moon' by Qin/Goodman – an anthology of Chinese migrant worker poetry.
It was great to meet so many people, including well-known local authors, and writers in the early stages of compiling their first drafts. It was a reminder of that passionate need to get the story down, and the glimmer of hope when someone offers words of encouragement that your ideas are of interest. In my experience many of us think that other people's stories are more interesting than our own, me included, and it's nice to be able to offer encouragement to aspiring writers struggling with the same doubts. The diversity of stories being told was fascinating and inspiring, and slightly nerve wracking when it came to sharing some of my own. A question was asked, 'What motivates you to write?' After working on the same three stories for 16 years, the only response I could think of was passion for the story being told.
And now back to my redraft of the sequel.
Happy reading!