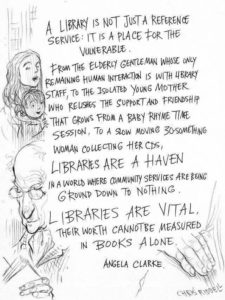 As a kid it was a Saturday morning custom for my dad to take me and my sister to Holmfirth library. We browsed the shelves, selected a book, and took it home to devour. And there from a tender age our worlds opened up in those typed pages. Stories have always been a gift.
From Holmfirth, West Yorkshire, to Sheffield, to Margate, South Africa, to Okehampton, Devon, to Exeter, most places I sought a library card. Whether looking for knowledge, or inspiration, or a story to grab and transport you to another world for a time, for me, that humble little card always gave me
a sense of belonging.
I moved to Exeter in 2006, into a fabulous bedsit with a high ceiling, filled with anticipation of new friends I might meet in this delightful city I have long called home. A couple of weeks in, driving through the country roads to work, and CRASH, literally a head on collision. A fractured collar bone, a broken finger, and I returned to my bedsit bandaged and bruised. I had yet to meet anyone in my new home town, but I did have one thing, a library card. St Thomas library became my refuge, a place I visited most days as I devoured story after story whilst on sick leave.
One arm in a sling, sporting a black eye, I returned my latest borrow, 'One for Sorrow, two for joy,' and received a sympathetic smile from the kind librarian as she said, 'My husband once did that to me.'
As I savoured the touch of meaningful human contact, I smiled in return, anticipating the look of disbelief as I replied, 'I was in a car crash.'
This community hub, taking pride of place on the Exe Bridges, was to close. I watched in disbelief as after months of building and refurb that gave nothing away, an expectant crowd looked on to watch the opening of a pound shop. Gutted!
Thankfully, though smaller, our treasured library clung to life, re-emerging nestled in amongst the terraced houses. And with its amazing team of innovative thinkers it soldiers on, jostling for position in this hasty world, maintaining a presence, however humble, with the power to reach into communities, to the young, the old, parents, writers, singers, shopkeepers, avid readers, giving us all that crucial sense of belonging.
Happy Monday!