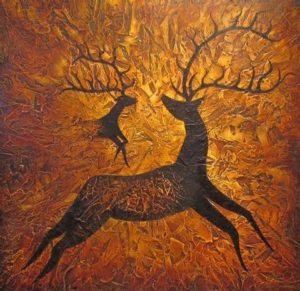 There's a reason why people in the UK obsess about the weather, when all four seasons can happen in one day. Conversations often feature words like nippy, overcast, drizzling… and end with dismayed comments like, 'I've got washing on the line,' or optimistic comments like, 'it's turned out nice again'. So after weeks of an uncommon and persistent heatwave, variable weather is back on the agenda.
Planning any outdoor event is risky business; Chilcompton Fringe festival in August suffered plunging temperatures, rain and blustery winds. Along with fellow writers from Exeter Author's Association, we sheltered from the elements in the literary tent, whiling away the hours travelling distant worlds as we shared magical stories of powerful stones, dragons and elves, medieval crime and black dog folklore. It was a far cry from the hot arid land of Shendi in Return of the Mantra. Accompanied by my version of the mountain lion mask of Shendi's annual festival, I had the added bonus of getting up close to a dragon and a black dog hobby horse.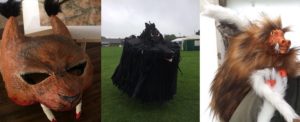 Stories have always been for sharing, and, of course, can be fun. Fiction offers healthy escapism from reality, as for fantasy, well, everyone wants a little magic in their lives.
For me, I opt for fantasy writing for the licence of creativity to offer worlds in which anything can happen; stories with mystical elements adds vibrancy. Set against a backdrop of spiritual, political and social issues, provides an environment for questions surrounding humanity to be seen objectively. Exercising the imagination fosters problem solving skills; if we see those skills put to good use in stories, maybe, just maybe, it can give hope.
I have favourite stories from books I've read, and inspiring stories from people I've known. Whenever I think about storytellers, I think about a woman who was writing her own. I met her when I was working at a women's refuge. She was a resident after suffering years of domestic abuse. She was quiet, reserved, distrusting; scarred by her past. One evening I saw her alone in the lounge, clutching a pink polka dot tin locked with a clasp. When I asked what was inside the box, she said, 'I'm writing a book'. She opened the lid and showed me the pile of papers filled with neat handwriting. Those pages offered sanctuary to make sense of her trauma, and her determination to continue writing it down, her dream of one day seeing it in print, was inspiring.
From cave drawings and Egyptian hieroglyphs, to oral storytelling told in song and chant, to written word and moving pictures, it is human nature to tell stories, fact or fiction. We are all storytellers.
Have a good day!