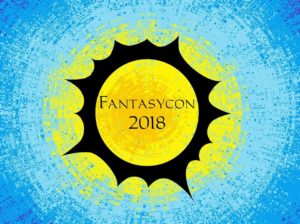 Last weekend was busy, with a trip to Chester to attend my first FantasyCon. It was amazing, and slightly overwhelming, to meet so many writers and readers of fantasy fiction. I took the plunge and signed up to the programme, including joining a fantasy reading panel. I read from Return of the Mantra, the part where Suni's life irreversibly changes after she experiences tragedy. She poses as a boy and heads off to the mines in search of her estranged father, but life at the mines isn't what she anticipates. Survival will depend on keeping her female identity secret, and on courage as she discovers her connection to ancient gifts passed down in bloodlines from the days of the tribes.
There was also a fabulous array of discussion panels. The Women in Genre Fiction got me thinking of characters I've loved, those I've rooted for, empathised with, found something in their development that touches on the familiar. An old favourite is Tenar from Ursula Le Guin's 'Tombs of Atuan'; a young priestess born into servitude to the Nameless Ones. She's a heroine not for wielding swords or fighting wars, but for her courage in facing the truth that will shatter all she thought she knew. Later we see her compassionate side, when she takes in a child and raises her as a daughter; Tehanu, a girl the world will come to rely upon.
Then there's my recent find, 'Who Fears Death', by Nnedi Okorafor; a fantasy story set in post-apocalyptic Sudan. The dark skinned Okeke people are oppressed by the light skinned Nuru people in this story that explores exploitation and cultural gender differences. The main character, a girl called Onye, is the product of inter-tribal mixing, and is known as an Ewu, a child born of violence. From the first I was rooting for this inspiring, courageous, powerful young woman.
Another panel that beckoned was Fantastic Inspiration. It was a treat to hear from a diverse array of panellists talk about their worldly experiences that inspired their writing. After being enthralled by personal stories of Asian culture and mythology, I shared experiences of Africa that inspired my own writing; people and places from the hot deserts of the Sudan to the lush bushlands and grasslands of South Africa. When I think back to the planning stages of Return of the Mantra, that blank canvas that beckoned to be filled, it was the name of a small town in northern Sudan that stuck; the town of Shendi that I passed on my way to visit the Sudanese pyramids. Strange to think that that dusty little town in the middle of nowhere is now the name of the land in my novel.
Among panels and readings and meeting new acquaintances, it was great to meet up with my publishers, the lovely people of Stairwell Books. It never gets old, seeing Return of the Mantra displayed on their table.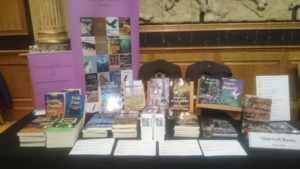 And after a 500 mile round trip, or so, we took a walk around Chester for a breath of fresh air, and some great Indian food. I'm lucky to have such a wonderfully supportive partner in Kate, who tirelessly encourages all my writing endeavours; so that was a well-earned korma by the canal.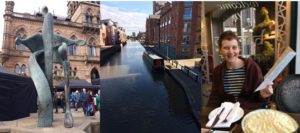 Happy Sunday!